Would You Like to Feel Better?
These are anxious, stressful times, and many of us are feeling anxious and stressed. Even if you have a health concern such as insomnia, headache, constipation, fatigue, weight gain or back pain, or face a serious challenge such as cancer, heart disease, diabetes, or epilepsy, you need not suffer.
Reiki healing promotes overall balance to help you feel better and function better. This non-invasive practice is safe, and supports any medical treatment or drugs prescribed by your doctor.
Can you benefit from Reiki? I've been practicing Reiki since 1986, and my experience tells me, Yes, you can. Because Reiki practice is balancing, it can help in a wide range of situations. Wouldn't you like more balance in your life?
You can learn to practice Reiki self-treatment, or you can schedule a Reiki healing session. Whichever you choose, Reiki can help you reach your goals. It may not be all that you need, but when you're feeling better and your thinking is clearer, it's easier to make other good choices for yourself.
Pamela has been pioneering Reiki in medicine for 20 years. Read more.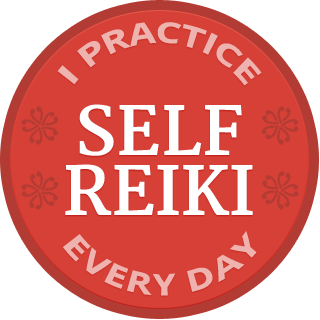 To show the world that you practice daily Reiki self treatment, copy and paste this code into your blog post or web page*:
* Badge available in 27 languages: English, French, Spanish, Italian, German, Dutch, Portuguese, Roumanian, Swedish, Turkish, Greek, Russian, Danish, Norwegian, Japanese, Papiamento, Icelandic, Indonesian, Hindi, Hindi in Devanagari, Polish, Gujarati, Estonian, Hungarian, Irish Gaelic, Thai, Vietnamese and your language too if you send me a translation.